eLearning Africa shows the world "what an exciting, innovative continent Africa is" say the organisers of Africa's leading conference on technology-assisted learning and training, eLearning Africa. This year's eLearning Africa, which took place in Abidjan, Côte d'Ivoire from 23 -27 October and focussed on "the keys to the future: learnability and employability" was a "great success," they say.
"eLearning Africa is a content-driven conference and it brings together everybody working in this domain of digital education – people doing research, building tools, teachers, small companies, big companies. It's a fabulous meeting ground," says Rebecca Stromeyer, the founder of eLearning Africa and Chief Executive of ICWE GmbH, the German company, which organises the event. "It has really helped to show the world what an exciting, innovative continent Africa is and it has focussed attention on the role technology can play in spreading educational opportunity and meeting the UN's development targets."
eLearning Africa has gained a reputation for leading the discussion on key issues in African education and training. Its programme includes a ministerial round table, as well as debates, seminars and discussions. One minister described the event as "the new reference theatre for the inter-generational transmission of new knowledge at the continental level."
Côte d'Ivoire's Education Minister, HE Mme Kandia Kamossoko Camara, told the conference that she was convinced that the dual focus on both employability and learnability was vital.
"It concerns the employability of young people in a competitive global context and the appropriation of moral and civic values," she said. "It is no longer a matter of training office clerks for the needs of the administration (this season is over!); but to build the African of today and tomorrow in relation to the requirements, on the one hand of open and global competition, based on talent and skills at both individual and collective level, and secondly socioprofessional insertion in a world in difficulty with employment."
Other speakers in plenary sessions of the conference included Martin Dougiamas, the founder of Moodle, which has become the world's largest education platform, and Professor N'Dri Therese Assie-Lumumba of Cornell University, who is one of the world's greatest experts on comparative education.
The eLearning Africa conference was accompanied by an exhibition at which international companies and organisations presented new technology-based solutions, services and courses.
eLearning Africa is a lot more than just a conference and an exhibition, though. It is also a network of experts throughout Africa and the world, who are helping Africa to seize the opportunity technology offers to expand the reach of education.
"In its fourteen years of existence, eLearning Africa has made a real contribution to the expansion of education in Africa," says Rebecca Stromeyer. "Our network of experts from all over the world is unique and it is full of people who are helping to transform the prospects of Africans. At the eLearning Africa conferences, when people from all over the world get together, ideas are exchanged, partnerships are created and friendships are forged. It is a very special event."
eLearning Africa Conference Background
eLearning Africa, is an annual pan-African conference dedicated to examining sustainable solutions for education, training and skills development, through the use of innovative technology to spread educational opportunity. Since the 2005 launch in Addis Ababa of the event, which visits a different African capital each year, technology-assisted learning has expanded massively and now plays a major role in the delivery of learning, training, and research and development in schools, colleges, universities, companies, and organisations across Africa. It has enabled millions of Africans to expand their horizons and take advantage of the countless possibilities new technology offers to learn and acquire new skills and qualifications.
For more information about both the eLearning Africa conference and exhibition or the associated eLearning Africa Ministerial Round Table, which is attended by Education and ICT Ministers, please contact Rebecca Stromeyer.
eLearning Africa is the key networking event for ICT-supported education, training, and skills development in Africa and brings together high-level policy makers, decision makers, and practitioners from education, business, and government. During its fourteen consecutive editions, eLearning Africa has hosted 18,800 participants from 100+ countries around the world, with over 85% coming from the African continent. More than 3,700 speakers have presented their ideas, opinions and experience. Serving as a pan-African platform, the eLearning Africa conference is a must for those who want to develop multinational and cross-industry contacts and partnerships, as well as enhance their knowledge, expertise, and abilities. The conference and its associated exhibition, featuring the latest products, courses, and solutions from around the world, represent "an outstanding networking opportunity and the best vantage point anywhere in Africa to gain a view of the continent's edTech market," according to the organisers.
eLearning Africa, the annual Pan-African Conference & Exhibition on ICT for Education, Training and Skills Development
Secretariat: ICWE GmbH, Leibnizstrasse 32, 10625 Berlin, Germany
Contact: Rebecca Stromeyer, [email protected], Tel: +49 (0)30 310 18 18-0, Fax: +49 (0)30 324 98 33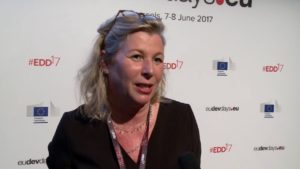 Rebecca Stromeyer